Continuing on from our previous article, let's dive deeper into the supply and management of all-important Safety Data Sheets (SDS).
Who is in charge of supplying SDS?
The answer to this question is written in the Guidance on Compilation of Safety Data Sheets (SDS). According to the rules, all manufacturers, distributors, and importers of dangerous goods and hazardous substances must prepare an SDS for each of their products. They must also give the current SDS to employers or occupiers of premises where the product is used or stored.
It is also the manufacturer's and supplier's duty to review and revise each SDS as often as necessary (we recommend every 3 years) to make sure that the information is up-to-date and accurate for the chemicals in question. If there is any change to the information related to the chemicals, it must be updated as soon as possible before importing the product as it can be hazardous.
The manufacturers and importers usually have a tie-up with companies that write Safety Data Sheets for them. These are written by chemists and then formatted according to the guidelines issued by the OSHA.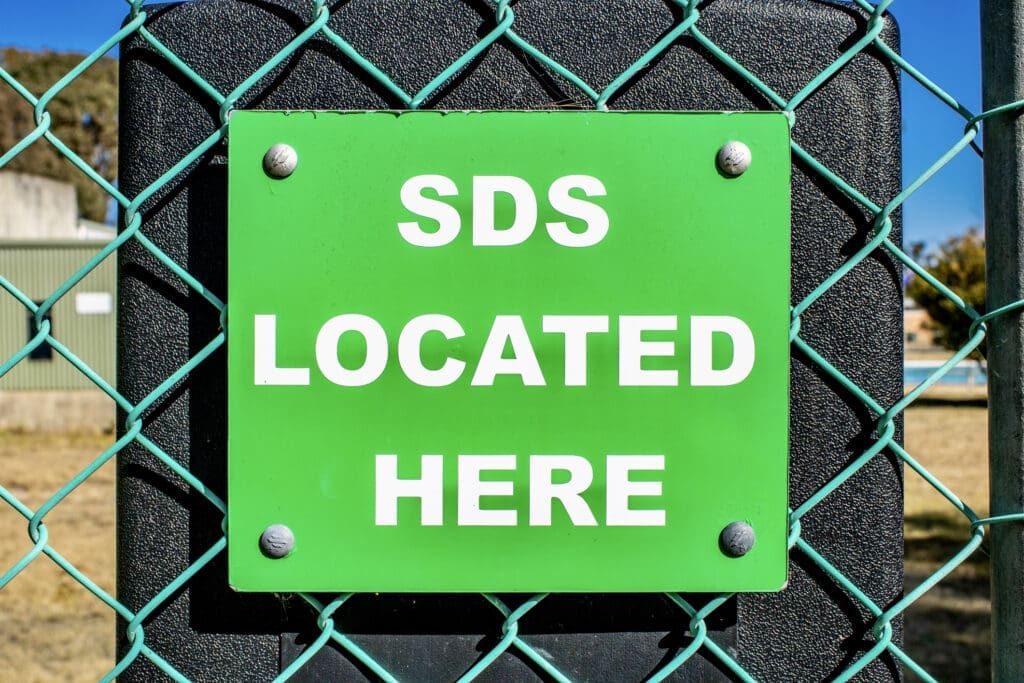 What are the SDS format requirements?
To write an SDS, one needs to have a good knowledge of chemicals, using either the country or international standards as a guideline. There is a Globally Harmonized System (GHS) that is used to classify and label chemicals, and many countries including Australia use the GHS to classify chemicals and develop SDS. The SDS must include the following information about a chemical:
Hazards, and directions on how to handle it safely, including storage and disposal
Physical and chemical properties
Potential health and emergency response measures
Environmental effects
You must set the information out under certain headings:
Section 1 – Identification: product identifier and chemical identity
Section 2 – Hazard(s) identification
Section 3 – Composition and information on ingredients
Section 4 – First aid measures
Section 5 – Firefighting measures
Section 6 – Accidental release measures
Section 7 – Handling and storage, including how the chemical may be safely used
Section 8 – Exposure controls and personal protection
Section 9 – Physical and chemical properties
Section 10 – Stability and reactivity
Section 11 – Toxicological information
Section 12 – Ecological information
Section 13 – Disposal considerations
Section 14 – Transport information
Section 15 – Regulatory information
Section 16 – Any other relevant information
Writing an SDS requires knowledge and time.  For that very reason, many companies outsource their SDS compilation. Chemwatch is a world leader when it comes to compiling and managing SDS for our clients. Our team can help your business remain up-to-date and compliant in the ever-evolving world of safe chemical management.
Chemwatch is here to help.
If you want to know more about the environmental and health effects of chemicals, or how to minimise risk while working with chemicals, we're here to help. We have tools to help you with mandatory reporting, as well as generating SDS and Risk Assessments. We also have a library of webinars covering global safety regulations, software training, accredited courses, and labelling requirements. For more information, contact us today!
Sources: