Who are we?
Entourage is your personalised customer support team; they are here to make your customer experience the best it can be. Each time you log into your Chemwatch application, the friendly faces of your Entourage team will be there to greet you. Their range of customer service skills means that there is an expert to help with any problem that may arise. The Entourage team can be contacted through email, phone, or through our live chat. Your dedicated Entourage support system includes:
Getting to know your Entourage
Think of our Entourage profiles as a slightly more professional version of those on your favourite social media. Accompanying photos ensure you can put a face to a name, and if you see us in the street, you can wave and say 'hi'!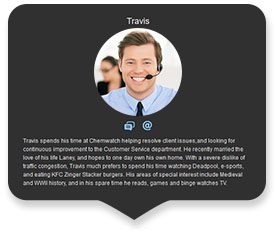 Continuous support
If you're logged on, we're logged on.
Your Entourage team will be there to answer any questions you may have regarding SDS, chemicals or just the general use of the application.
If you get stuck using the Chemwatch system, let us know and we can walk you through what you see on screen. Or, upon request, our Helpdesk team can view your current browser window and directly assist you with any issues you may be experiencing in the system.
Alternatively, you can create a "Trouble Ticket" through our 24/7-managed live chat, and direct it to any members of your Entourage team. Your "Trouble Ticket" will enter our managed query system, where it then goes to the Helpdesk, who will assign it to the correct team for review. This ensures a timely and effective response to any problems you may be having.
Your Entourage team is there to provide great customer service, ensuring your organisation's effective chemical management and business success.