Wherever you are in the world, Chemwatch is here to help you! Our new mobile app puts the ultimate chemical safety pocket guide in your hands wherever and whenever you need it. This incredible app makes our products and services even more accessible than ever to the people who need them most—chemists, factory floor workers, researchers and chemicals management personnel.
Introducing Smarter Suite
We're putting chemical safety in your pocket via your phone. Smarter Suite is our new mobile app that combines the features of SiSoT and Smartsuite with some bonus features. Smarter Suite ensures all the information you need is stored in a single location, and ready for you to access anytime, anywhere. The Smarter Suite app is compatible with both the iOs and Android operating systems.
New features
SmarterSuite's new Single Sign-on (SSO) integration makes logging into the app quicker and easier, allowing clients expedited access to data.
Keep an eye out for the new Folder by folder download feature where users can select specific folders to download information from. This is particularly useful for clients with large databases, as they can select a subset of files to download.
Sync and share
Smarter Suite syncs with the PC-based Chemwatch system, ensuring access to a range of chemical safety documents, no matter where you are and what device you are using. Share documents and chemical inventory data to and from your cloud account. Smarter Suite is also accessible offline.
Here are a couple of the ways you can use Smarter Suite
Map your chemical stores with geo-tagging:
Create chemical stores in our cloud-based application
Integrate and plot your locations using Google Maps
Use "Current Location"
Track your chemicals across the world.
Manage your assets with Smarter Suite:
Update your chemical inventory and related information
Scan chemical containers in and out of a location
Audit your chemicals
Mark containers lost or found in reconciliation mode.
Smarter Suite's chemicals management area is split into five sections
Each section of the Smarter Suite app contains useful information that allows users to better manage their chemicals. The five sections are as follows.
Smart SDS
This section contains Chemwatch-written SDS. They are fully GHS and REACH compliant, available in 47 languages and in over 80 local SDS formats, including USA, Europe, Australia and Singapore.
For more information on understanding SDS, click here.
Smart V
This section contains Vendor SDS from chemical manufacturers and suppliers. Here you'll have access to Chemwatch's inventory of over 70 million SDS documents. Choose from your own organisation's database of chemicals with various country and formatting options available. They are all GHS compliant and readily accessible for your employees via the app.
Smart COBRA
This section deals with Risk Assessment for your chemicals including how to implement control measures, observe hazard and risk levels, and manage health and safety management processes. With Smart COBRA you can complete the Risk Assessment in 30 seconds. It also includes a GHS compliance and hazard identification service.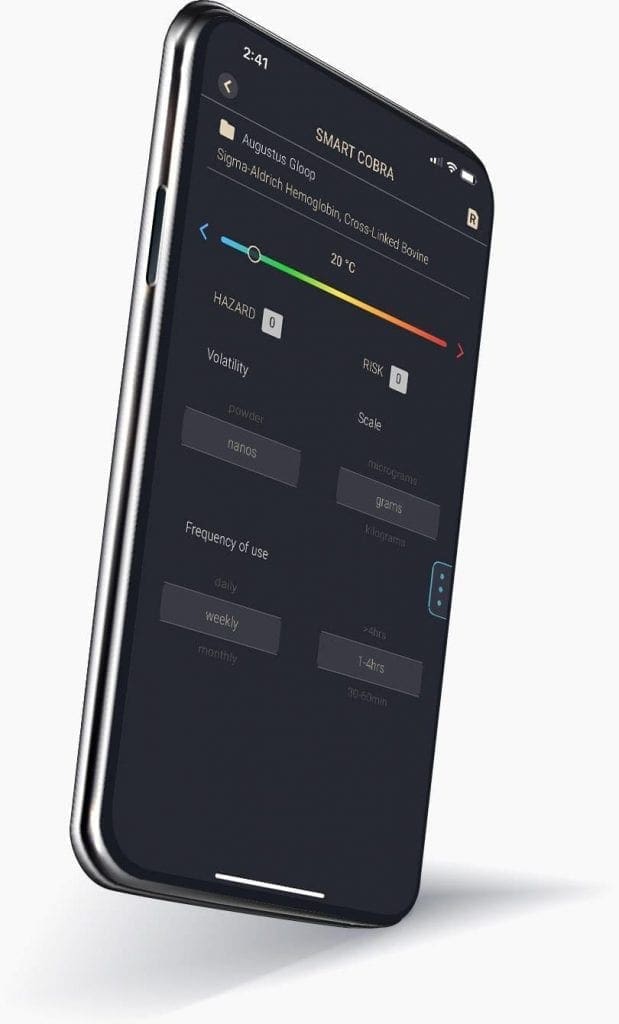 Smart MINI
This section comprises a selection of one-page hazard assessments, available in over 40 languages for over 260,000 chemicals. It includes colour-coded hazard labels
To download a FREE Mini SDS, click here.
Smart ER
This section offers a 24/7 Emergency Response service and includes details for all on-site chemicals. With Smart ER you can instantly share information with local emergency services.
For more information on our Emergency Response Hotline, click here.
Want to know more? Chemwatch is here to help.
If you want to know more about Smarter Suite and/or need any help with creating your own chemical safety guidebook, talk to the Chemwatch team today. In addition to being experts in a range of fields, we have many years' experience in labelling, Risk Assessment, Heat Mapping, SDS analysis and much more! Please contact us on (03) 9573 3100 or at sales@chemwatch.net so we can assist you.